Exquisitely off the grid . . . .
Photos courtesy of Los Cabos Sotheby's International Realty
Villa del Faro is an oasis of beautiful gardens and stately palms, and painstakingly handcrafted dwellings that bring to mind both a Mexican hacienda and an Italianate villa.
Villa del Faro is a small, unique and secluded Hotel situated on 12 acres of gardens and desert overlooking miles of private, deserted beach.
The only access is a long horribly bumpy road that goes from the Los Cabos airport, through the middle of nowhere, to the endless desert by the sea of Cortez. (A map is provided.) But getting there is well worth the trip.
Villa del Faro is not a place for everyone. It offers solitude – as much as you may need – as well as the opportunity to enjoy the company of other guests, long walks on a lovely swimmable beach on the East Cape, hikes into the deep arroyos, watching the whales play from your private balcony, and personal care from the friendly family who run and own it.
A stay in this beautiful place is more like being a guest in someone's fabulous home, which is exactly what the owners intended.  Many lasting friendships are made here.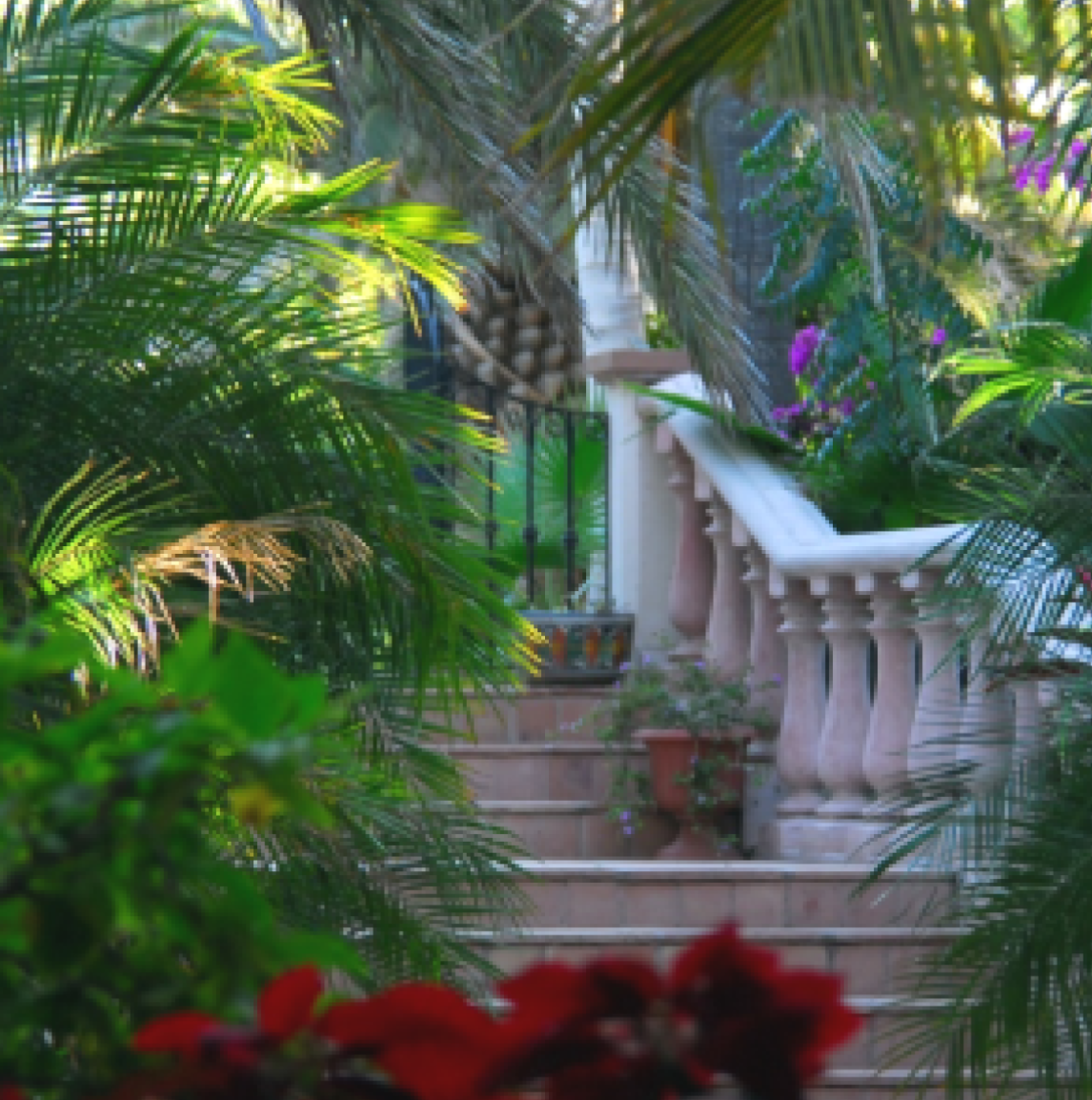 While the Hotel sits in lush gardens, The surrounding desert is as pristine and untouched as it can be.​ Originally a private home for a large extended family, Villa del Faro was built over may years. The property was purchased in 1989, and building started the next year. The family ran a large construction company in LA and thought the Baja property would become a wonderful vacation place for company members since it is a short flight from LA. A place to get away, too.
Since the family consists of many artistic and talented people, everyone wanted to contribute, parents, children, friends, and it quickly became a labor of love. Molds were made for tile, and balustrades. 
There was an in-house wood carver and furniture maker who made the doors and chests and tables. A shop for cabinetry. A local iron worker fashioned the iron gates and some of the windows.
The crew was gathered from one small town in mainland Mexico, and as more were needed, more came. Everyone lived in tents and food was prepared by a local Mexican cook out of an outdoor kitchen attached to a camper. (That same cook owns and runs a little restaurant now in La Ribera.) 
Many of the children "cut their teeth" here, going on to become landscape architects, architects, builders, running construction companies of their own, painters, and sculptors, all with a real set of experiences to get them started.
Hauling in trees, mixing cement in a hole in the ground, nothing but hand tools, everyone learned from the bottom up.
Villa del Faro was built as much as possible, around the cactus, leaving many trees and natural plants untouched. Always aware of the ecological impact they were making, the family chose to build little houses here and there, rather than one huge imposing structure.
The result is a closeness to the desert, a sort of interaction between civilization and the wildness of nature. . . From a window in any of the casitas, you are apt to observe a mother fox and her babies drinking out of a fountain, or the shy bobcat perched on top of a cardon cactus early in the morning, looking for rabbits in the brush.
There are countless lizards, including the geckos who live on the ceilings and make the loudest noise for such a tiny creature. Large iguanas lay on top of the cactus in the sun, chipmunks are everywhere and occasionally even a rarely seen deer will wander though. Of course, there are some of the more unsavory residents, rattlesnakes, scorpions, centipedes, tarantulas(also very shy), and caution is always advised when walking the paths. But these creatures do their best to stay away from well-trod human paths.
Some of the most fascinating things are the birds. An immense population, they are seasonal and change with the weather. Permanent residents are the several species of hummingbird, some exceedingly rare. 
There are quail, orioles, falcons of various types, kestrels, finch, cardinal, pyrrhuloxia and the hard to see phainopepla, the bold, humorous common raven, whom we feed and have practically tamed. 
The great white egret lives in our dunes and the great blue heron number among our sea birds and eagles. Nature abounds!
So if you like good books, great food, music, exquisite surroundings, comfortable ambiance, the sound of the ocean to put you to sleep, the great outdoors a conscious embrace of all living things, then by all means come and enjoy this remarkable place. It is well worth a try.